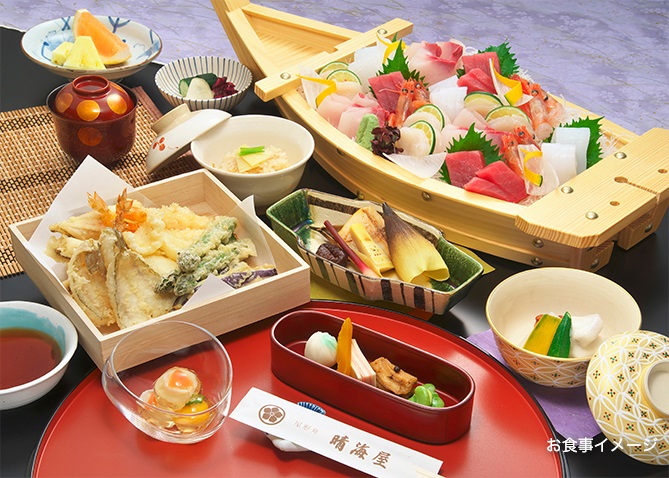 Furisode gozen (Only for the Shared-ride plan) details
Authentic Japanese cuisine with sashimi (raw fish) and tempura.
This menu is only for the Shared-ride plan and depends on Yakatabune which you are suggested.
Details of the menu
The first appetizer (2 dishes) Tofu mixed with green peas, lily bulb/ raw tofu skin,Soy-sauce-marinated salmon,Matsumae-style wasabi
The second appetizer  Boiled field mustard in a small pot, foie gras jelly, cheese egg, pickled horse mackerel
Sashimi Assortment of seasonal fish with vegetables and wasabi
Grilled plate Roast beef,colorful vegetables,mustard vinegar
Cooked plate Taro, shrimp, chestnut, wheat gluten, and okra with minced meat sauce
Fried plate Tempura fried on the boat: shrimp, sand borer, squid, Conger eel, butterbur scape, sweet potato
Rice and others Bamboo shoot rice, Japanese consommé soup
Pickles Assortment
Fruits Seasonal fruits
※The details may be changed depending on the availability of ingredients.
Price
12,000 yen (tax included) per person
*Including the passage fare of the yakatabune.