Today's party cruise is for celebrating a guest who will start his own business.
The boat is the Ebiya-maru, in which a small group of guests can relax in a spacious chartered yakatabune.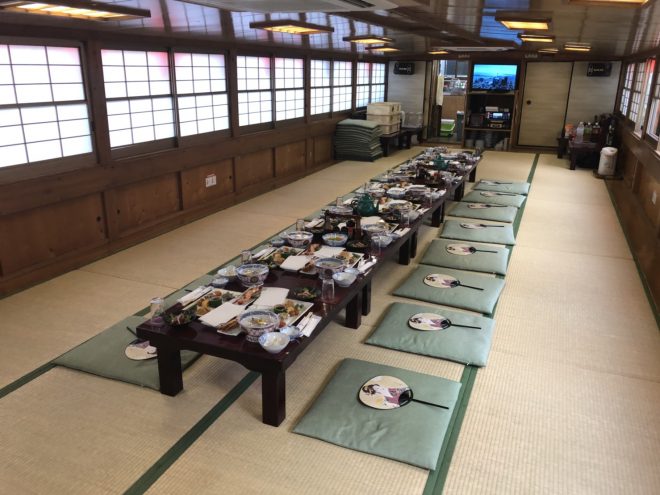 A cozy and friendly party tonight has just started!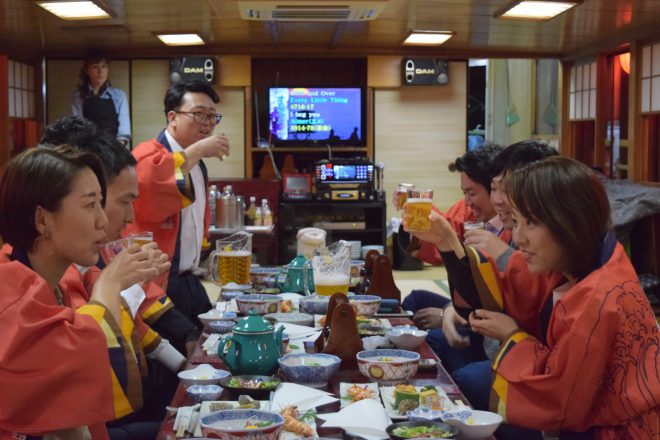 The chef on the boat carefully selects food ingredients and cooks delicious meals!
The guests have an animated conversation over a delicious dinner.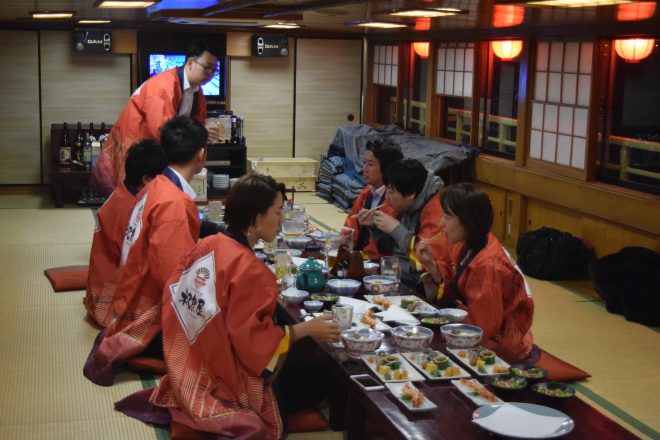 For the all-you-can-drink menu, we have prepared various drinks other than beer!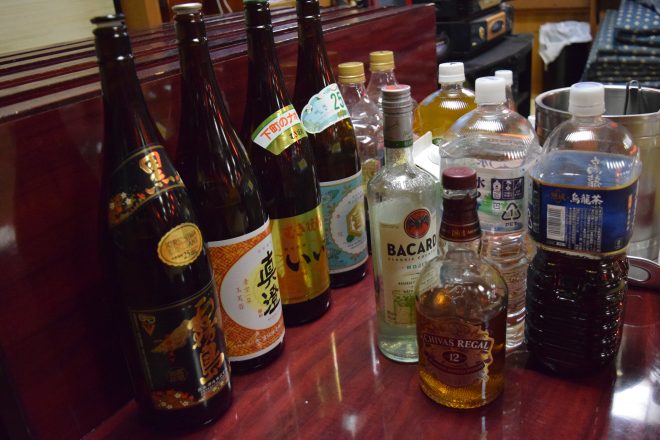 You can make your drink as strong as you like, and you can also mix in a liqueur or some other spirit!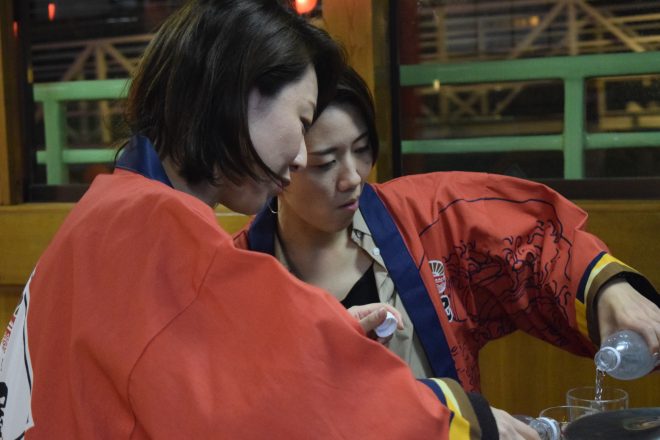 You can make your own "original cocktail"!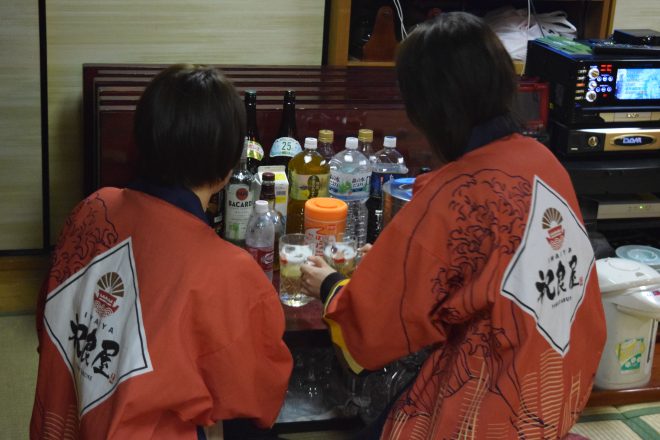 After leaving Shibaura, the boat arrives at Odaiba and moors for a while!
All the guests go up to the 2nd floor deck and we take their group photos.
First, with Rainbow Bridge and Fuji television in the background!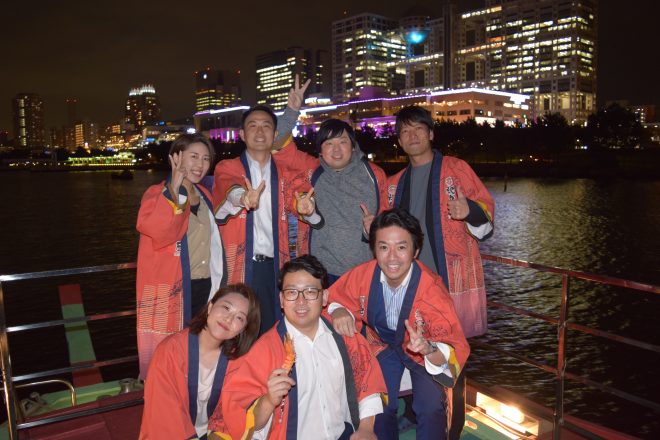 …?
Look at the person in the center!
He is holding a shrimp in his hand!?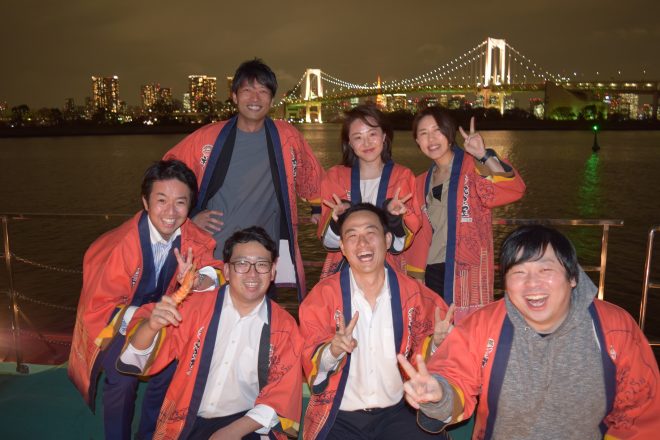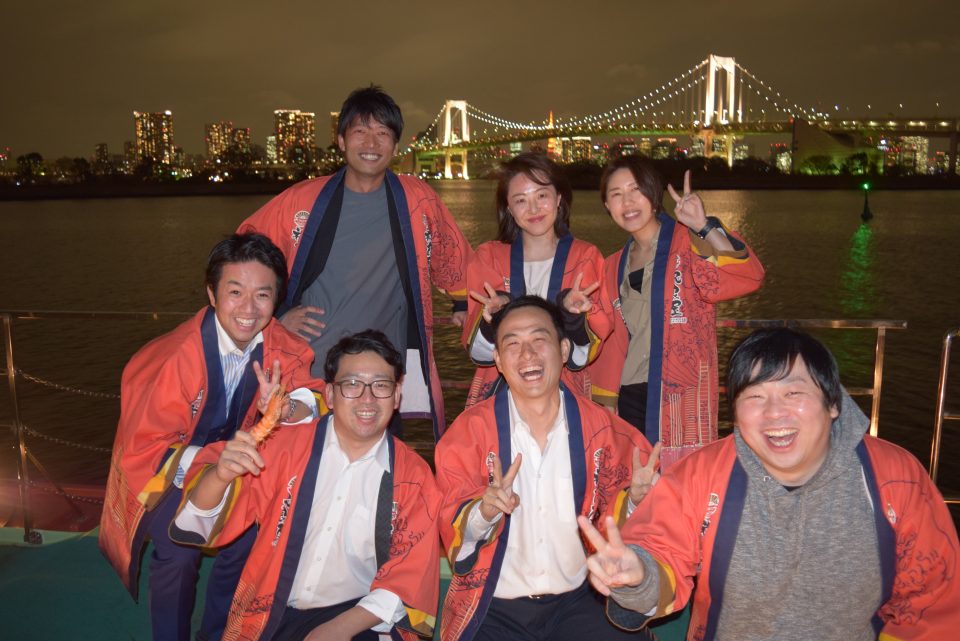 We take another photo of the guest with a shrimp in his hand, in front of the Hilton Hotel.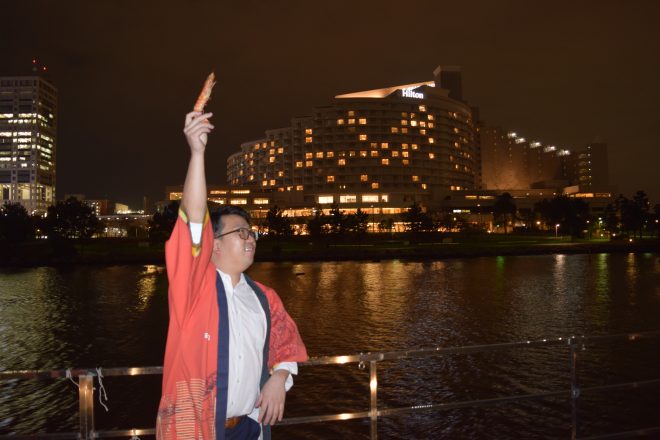 We can take a very ahead-of-the-times humorous photo.
This guest looks cool with Rainbow Bridge behind him.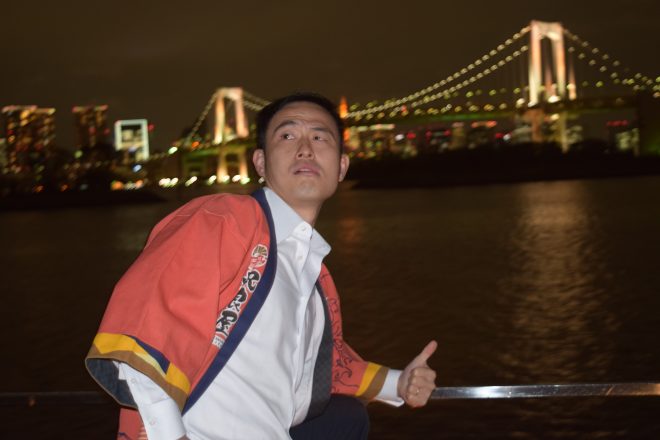 After enjoying the night view on the deck, they come back to the cabin.
Then, freshly-fried tempura is timely served!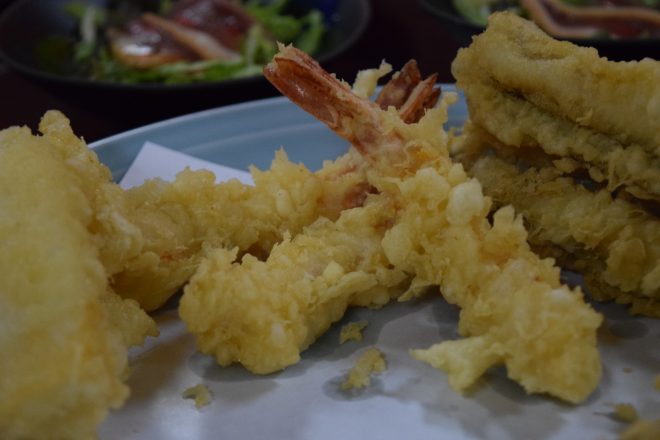 Tempura is indispensable for yakatabune!
The guests enjoy very delicious tempura with crispy batter and tender ingredients!
They have a few drinks, and now it's karaoke time!
Since they are on a boat, they passionately sing the theme song of One Piece!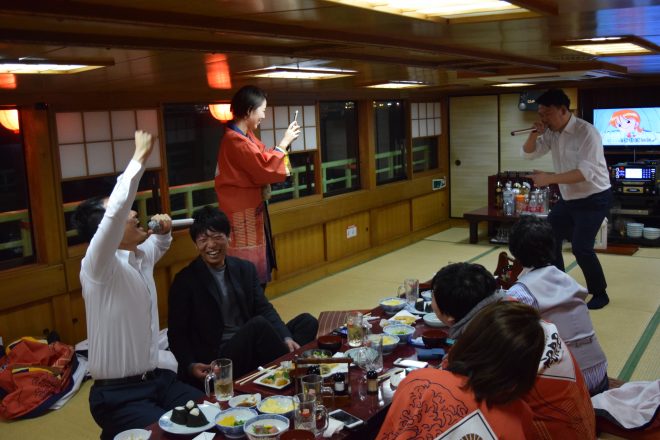 Look at the "devil's fruit" (in One Piece) in his right hand!
The party organizer prepared one to make the party more exciting.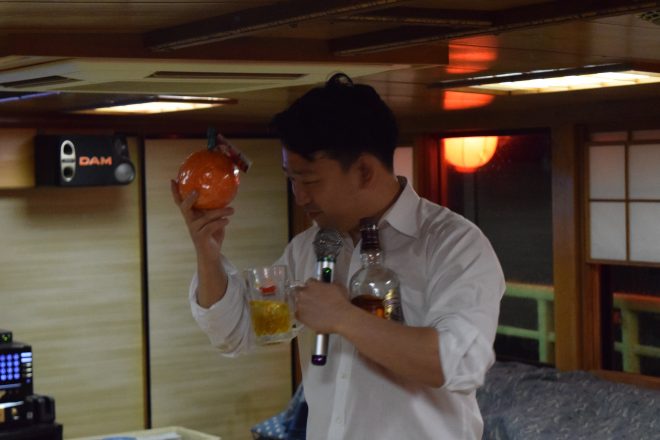 Well?
This time a singer is holding a hot water pot in his hand!!
They enjoy karaoke in high spirits!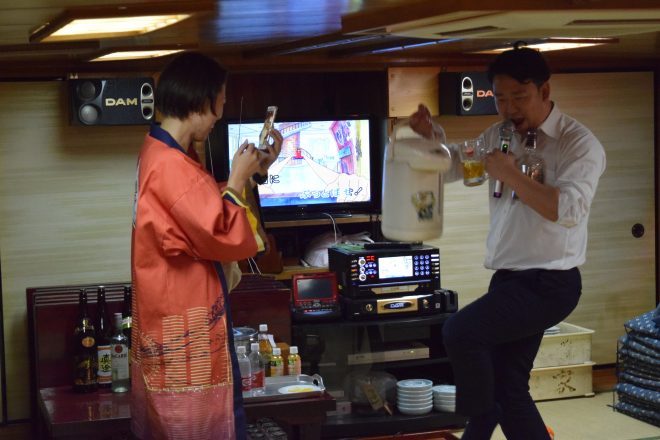 Next, here comes a regular entertainment among the guests!?
Or legend!?
The two guests perform manzai (stand-up comedy)!
They are hilarious.
With their great rapport, big, loud laughter fills the cabin.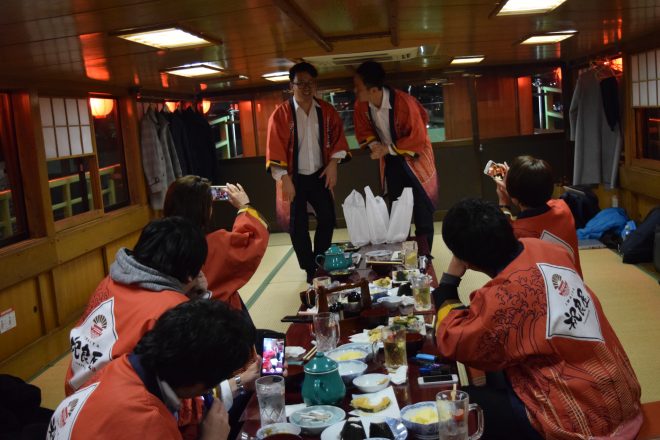 Actually, they practiced briefly before the party.
*A picture taken secretly.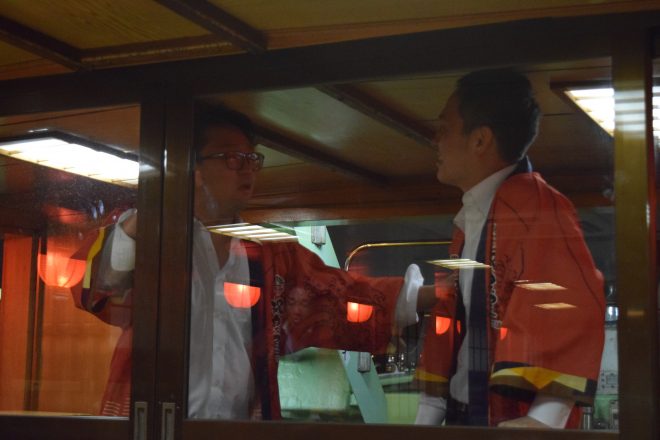 After the show, the two comedians have friendly conversations with the guests on the deck!
The guests praise them a great deal with the night view of Tokyo Bay before them.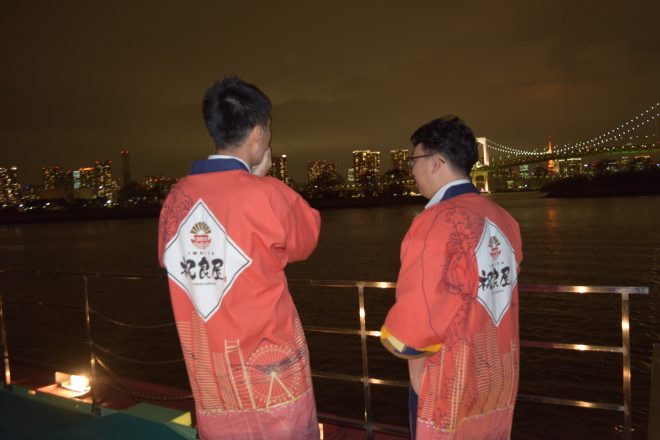 After coming back to the cabin, they sing that song again as their final song!
They used the whole cabin as their stage and provided a lot of entertainment at the party.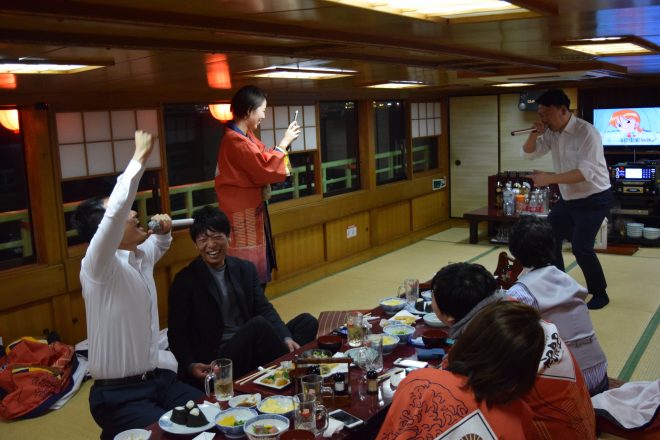 All the staff members are very happy, because the guests thoroughly enjoyed the party!
Since the yakatabune was chartered, they did not have to worry about other guests, which is the greatest attraction of a chartered yakatabune.
It was a wonderful party cruise in which the guests celebrated their colleague who who would be sailing off to a new business world.
We are looking forward to seeing you again on the boat!
Yakatabune : Ebiya-maru